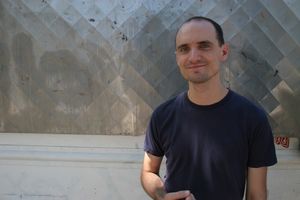 I want to give a shout-out to the immensely talented Matt Kanelos, an NYC multi-instrumentalist/singer/songwriter, for he's the accidental reason I accompany myself on the piano today. 
Matt was my pianist in my early gigging days in Chicago. Such a talent and so inspiring. I loved playing with him. Sure, I could play, but mostly I only did while writing songs at home. 
On one gig, he got stuck in the notably nasty Chicago traffic on the way to our standing Friday happy-hour duo gig at the Westin Hotel on Michigan Avenue. I recall he had to drive a long way from the south suburbs, but it could have been from anywhere. As the start time approached, I was getting antsy. I had accompanied myself on the occasional original and some popular material during that time, but Matt was my primary gig pianist.  What to do? 
It's now showtime. No Matt. So I started playing. And it went well. So well, my agent started booking me for more piano solo gigs. And I discovered I perform better as a vocalist when I'm more connected to the music with my fingers on the keys.
Sometimes you realize later that what you think are problems are actually doors to new ideas and opportunities. So, as thanks to Matt for getting stuck in traffic, I'd like to share a couple of his songs. 
"Peacock Dance" is the lead track to his 2009 album "Silent Show." You can hear his jazz, rock, and classical influences in this phenomenal song that … well here's what NPR had to say: "Kanelos crafts tunes that sneak up on listeners — that begin harmlessly but ultimately overwhelm with the weight of their poignancy, sorrow, and joy." Perfect. The second is "String of a Kite." It's a burning ballad of his I recorded on my 2009 album "April Dreams." 
I hope you'll dig further into his music either at his website or one of the streaming services. If you're in New York City, find out where he's playing and give him a live listen. You'll hear what I've known for decades. This man is a serious talent.