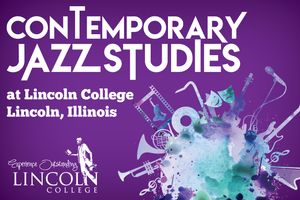 People ask me why I don't perform more in Chicago and central Illinois. Well, as the leader of the Contemporary Jazz Studies (CZJS) program at Lincoln College, most of my days are beyond busy, but in a good way. 
When I was asked to re-imagine what was then called the Jazz Studies program at Lincoln College three years ago, I immediately identified six "needs":
Lincoln College students needed to be connected to the community of Lincoln. 
CZJS students needed to learn how to teach 
That music performance, including jazz, can take on forms other than a traditional combo on-stage covering songs from 80 years ago. 
Live performance has value: You should be paid for your work. 
CJZS students needed to see how jazz music could be a solid base in other forms of music, such as R&B, Hip-Hop, and Country. 
There needed to be a business and production component to the program. 
The first two "needs" are connected and happening. Lincoln College CZJS students are teaching weekly at the Lincoln Park District and getting paid for their efforts. The first three points are also connected, as the students are now teaching what I call a "Jazz-Playformance" workshop at the First Presbyterian Church of Lincoln, and yes, getting paid for it. 
My "Jazz-Theatre" concept is one idea I've presented to CJZS students to inspire them to think outside the box on how music can be presented. It draws upon how jazz music was presented in its infancy, as music with dance and theater elements. Matter of fact, those disciplines were once considered intertwined. We're bringing that idea back to Lincoln College with our biannual end-of-semester Jazz Theatre performances. 
Recent productions include "Langston in Lincoln," which through music, voice, dance, theatre, and visual media chronicled the year poet Langston Hughes spent in Lincoln and at Lincoln Junior High, where he wrote and performed his first poem, and was inspired to become a poet. 
Our most recent production, "The Jump Jive Jukebox" combined the popularity of the jukebox in 1950s and 60s America with the often shark-infested waters of the music business. The original student-written show featured CJZS students reviving popular songs by Louis Jordan and others from that era. But it also incorporated original music written by CJZS students into the flow of the show. You can see all of that in this 4-minute trailer: 
The CJZS program is in the process of completing the recording studio where students can practice music production techniques and produce their own original music. 
We're doing some innovative, practical, and fun things in the Lincoln College CJZS program. If you have a child, relative, or friend interested in exploring relevant and creative paths in their music career, feel free to contact me at Lincoln College:  dlagrassa@lincolncollege.edu