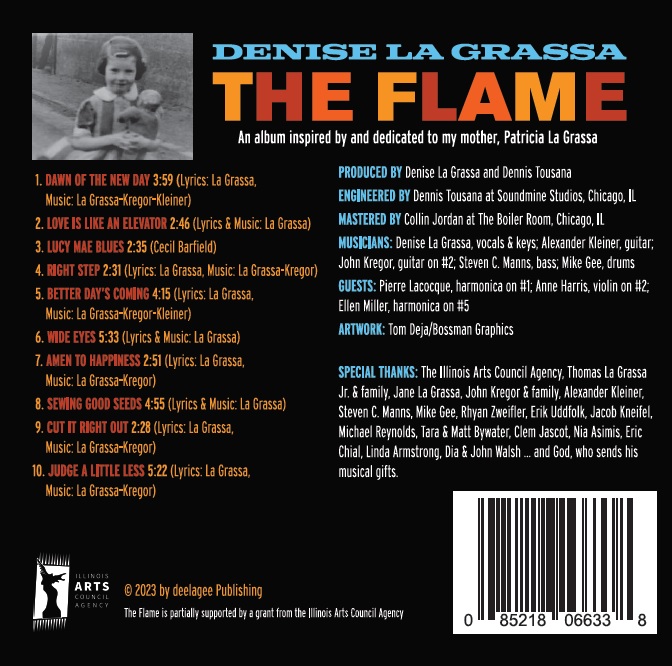 As we prepare for Mother's Day, I'm looking at a photo of my mother, Patricia La Grassa, at age four in Scotland with her little doll in hand.  Graphic artist Tom Deja integrated the photo into the album artwork for The Flame. Many songs on the album were inspired by the story of my mother who immigrated from Scotland to America. 
My mother worked and saved tirelessly for years to come to America to pursue her dream. Her experiences taught me to move with courage and pursue bold endeavors in life at any age. And now after a career shift following the sudden closure of the school where I was teaching, I'm finding my music artistry career path at this later age & stage is indeed a bold endeavor requiring strength and focus.  
It can be lonely at times but I'm not alone. So many women like me with stories of career path changes, unexpected turns on uncharted ground with fears front and center as you move toward a more fulfilling and rewarding career path. Confidence then vulnerability shifts come and go through the transition process. Unexpected benefits at this age & stage shifting career paths: Wisdom is at work in all you do. 
Life thus far has taught you don't waste time with pettiness, move on, get with some happy vibe people, harness some courage and confidence, and imagine a new life with a new mindset that comes from a life's experiences. 
Women's stories. That's what we're telling. Come help us tell them. https://www.mecoclub.com/northof40